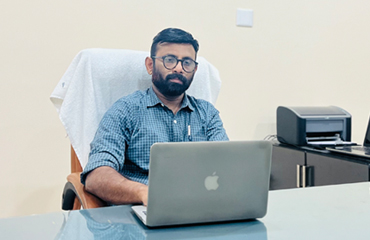 KTM College of Advanced Studies, formerly Darunnajath Arabic College Karuvarakundu is one of the pre-eminent institutions run by Karuvarakundu Darunnajath Islamic Centre (Estd.1976), the educational agency which has made substantial contributions towards re-writing the educational and social profile of the east Malabar region.
Established in 1986, the college remained as a private, unaided institution till it was affiliated to the university of Calicut and became a grant-in-aid college in 1995. The college which was accorded minority status by the ministry of Minority affairs, Government of India in 2012 holds the unique privilege of being the first ever oriental college to be recognized under 2(f)&12(b) Act of the UGC in the state of Kerala. The College was converted from the oriental title category to a regular Arts and Science college and renamed as KTM College of Advanced Studies after its founder, the late KT Manumusliyar, in 2017.
Located in a serene and sylvan ambience in Karuvarakundu Gramma Panchayat which lies nestled between the majestic Koomban hills on one side and the verdant Silent Valley on the other, the College is ideally suited for academic and co-academic activities. Being the only higher education institution in this remote, rural village, whose population consists mainly of plantation labourers, small farmers and tribals, the college has to assume the bigger responsibility of catering to the higher education needs of the most marginalized sections of the society. The college offers two UG programs, one PG and a doctoral program.