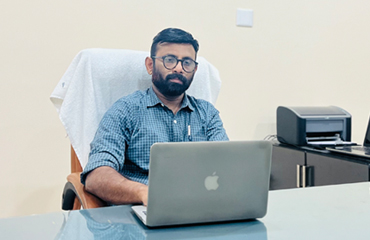 KTM College of Advanced Studies, formerly Darunnajath Arabic College Karuvarakundu is one of the pre-eminent institutions run by Karuvarakundu Darunnajath Islamic Centre (Estd.1976)- the educational agency which has made substantial contributions towards re-writing the educational and social profile of the state of Kerala.
The College, which had a modest start as a private institution in 1986, was originally meant for the high school graduates from the orphanages under DNIC. The College got affiliated to the University of Calicut in 1995 and signed the Direct Payment Agreement with the State Government and became a grant-in aid institution. The college holds the privilege of being the first ever oriental college to be recognized under 2(f) & 12(B) Act of the UGC in Kerla. The College was accorded minority status by the Ministry of Minority Affairs, Govt. of India in 2012. At present the College runs two Under Graduate programs, one Post Graduate program and a Doctoral program. Located in a serene and sylvan ambience in Karuvarakundu Gramma Panchayat of Malappuram district, overshadowed by the verdant hills of the majestic Western Ghats, KTM College of Advanced Studies is ideally suited for academic and allied pursuits.
With a view to enlarging the scope of the academic activities of the College and making its reach accessible to a wider public, the College was converted to a regular arts and science college in 2018. The college which keeps up prestigious track records both in the academic and non-academic spheres aims at moulding a morally sound, academically excellent and socially committed generation of youth.